Ben White: Arsenal Sign Defender From Brighton in £50m Transfer | Football News | Sky Sports
Arsenal have signed England defender Ben White from Brighton in a £50m deal.
White, who was a late call-up to Gareth Southgate's England Euro 2020 squad, has signed a five-year deal with the option of a further year and will wear the No 4 shirt.
Arsenal saw two bids for the 23-year-old rejected before an agreement was reached with Brighton, who have inserted a sell-on clause.
Arsenal manager Mikel Arteta said: "Ben was a top target for us and it's great that we've completed his signing. Ben has been educated with two very good clubs, Brighton and Leeds, in recent seasons. He has benefitted well from two very good coaching set-ups and has shown with both Brighton and on loan with Leeds what a strong talent he is.
"Ben is an intelligent defender who is very comfortable with the ball at his feet and his style fits perfectly with us. And of course, he is still young, so his age and profile fits with what we are building here. We are all looking forward to Ben being central to our future long-term plans.
White will immediately join up with his new team-mates ahead of the Mind Series friendly match at home to Chelsea on Sunday.
He is the club's third first-team summer signing, after left-back Nuno Tavares joined from Benfica for around £8m and midfielder Albert Sambi Lokonga arrived from Anderlecht.
The centre-back made 39 appearances for Brighton in all competitions last season as the Seagulls finished 16th in the Premier League under Graham Potter.
Prior to his debut season in the Premier League last year, White impressed on loan during Leeds' Championship title-winning side in 2019-20 which led Brighton to secure him on a new four-year contract.
Analysis by Nick Wright
Arsenal's pursuit of Ben White has caused puzzlement among some supporters. For a side with the third-best defensive record in the Premier League last season, wouldn't £50m be better spent elsewhere?
But for Mikel Arteta, like many coaches in the modern game, a central defender's remit is not simply to keep the ball out of his own net. It is to move it upfield as accurately and effectively as possible, and in doing so become the starting point of the team's attacks.
Arteta regards playing out from the back as a key tenet of his philosophy, but progressing the ball from one end of the pitch to the other has been a persistent problem during his tenure – particularly when he has been without David Luiz, whose departure this summer has left a ball-playing void in the heart of Arsenal's defence.
Raphael Varane: Is the France Defender the Missing Piece in Manchester United's Jigsaw? | Football News | Sky Sports
Manchester United fans are understandably delighted with Raphael Varane's imminent arrival from Real Madrid, although the club would not have needed to spend £43m on the defender had Sir Alex Ferguson managed to lure the Frenchman to Old Trafford a decade ago.
A young Varane was starting to grab people's attention in what was his debut campaign with Lens in 2010/11, including that of United's then French scout David Friio, who became a regular attendee during the player's final few months at the Stade Bollaert-Delelis.
Varane, just turned 18, may not have been able to save Lens from relegation from Ligue 1 that season, but that did not bother Ferguson, who knew a future world star when he saw one.
Unfortunately for the Scot, he was not the only one running his eye over Varane and with the United manager en route to northern France to sign the centre-back, Real Madrid's new special adviser learned of the meeting and quickly intervened.
One phone call from Zinedine Zidane was all it needed for Varane to end up in Madrid, not Manchester that summer, with United instead buying Phil Jones from Blackburn Rovers for £16.5m.
During 10 trophy-laden seasons at the Santiago Bernabeu, Varane formed a formidable partnership at the back with Real captain Sergio Ramos, eventually ending Pepe's career at the club in 2017.
Varane worked with Jose Mourinho in his first two seasons in the Spanish capital, developing his defensive game under the Portuguese, who was then at the peak of his powers, as Real prevented Pep Guardiola's Barcelona from winning a fourth straight La Liga title in his debut campaign in Spain.
Mourinho has coached some of the very best centre-backs in the world during the last 20 years, so it says something when he puts Varane at the very top of that list.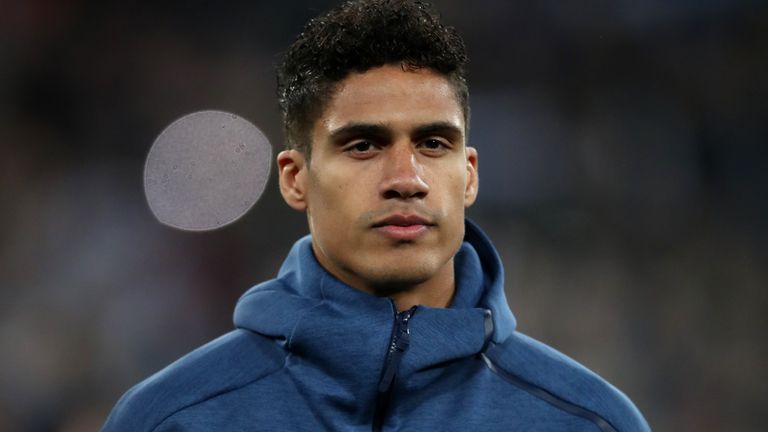 "Varane is the best central defender in the world. He is still young, but I think he's the best. Already, yes. I think he's the best defender," he said a year after leaving Real, which probably explains why he was so keen to make him his first signing as United boss in the summer of 2016.
However, unlike in 2011, this time Mourinho could not persuade Varane to team up with him as United once again missed out on the France international's signature.
Varane's Real Madrid Career in Numbers (2011-2021):
| | |
| --- | --- |
| Games Started | 331 |
| Minutes Played | 29851 |
| Games Won | 240 |
| Clean Sheets | 113 |
| Yellows | 22 |
| Reds | 2 |
It proved a good decision as Varane racked up over 350 appearances for Real, winning 18 major honours in the process, including four Champions League and three La Liga titles.
So it is that type of pedigree United are bringing to Old Trafford – someone who not only knows how to win, but also expects to.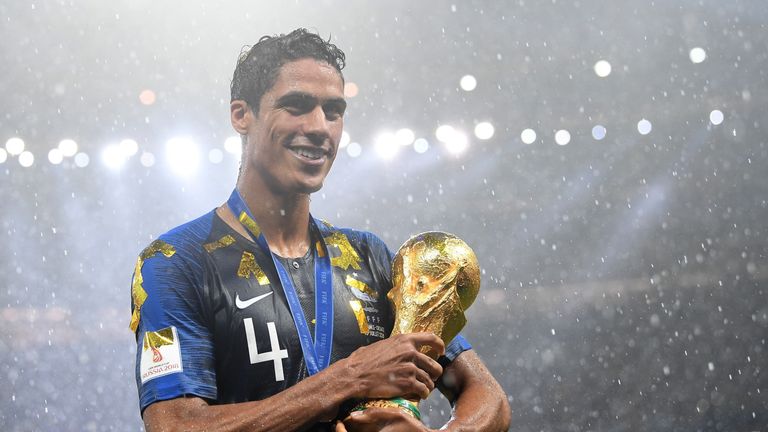 Not just with Madrid either, but France too, who he became world champion with in 2018. In Russia, Varane played a key role off the field with his dressing-room leadership skills as well as on it, where he featured in every minute of their victorious campaign as he joined a select band of players to have won the European Cup/Champions League and World Cup in the same year.
Now it is a case of third time lucky for United, who a decade after first trying to bring him to Old Trafford, have finally got their man.
Varane – at 28 the ideal age for a defender – could prove to be the missing piece in Ole Gunnar Solskjaer's United jigsaw.
Man Utd are buying one of the best central defenders in Europe. He has been fantastic at Real since day one, he has all the attributes you need and in terms of quality, I do not think there are many better than Varane.
The graceful Frenchman is as close to the complete central defender as you will find in European football right now – pacy, calm under pressure, composed on the ball, strong in the air and a good organiser and leader at the back who also reads the game well.
While it is true Varane has not always garnered the attention Ramos has at times at the Bernabeu, as Spanish football expert Terry Gibson says, that should not mask the quality of centre-back United are signing.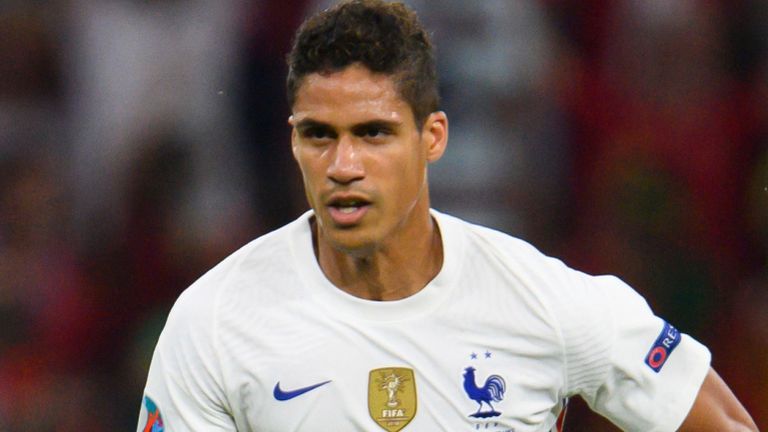 "Man Utd are buying one of the best central defenders in Europe," he told Sky Sports News.
"He has been fantastic at Real since day one, he has all the attributes you need and he has been slightly overlooked because of Sergio Ramos.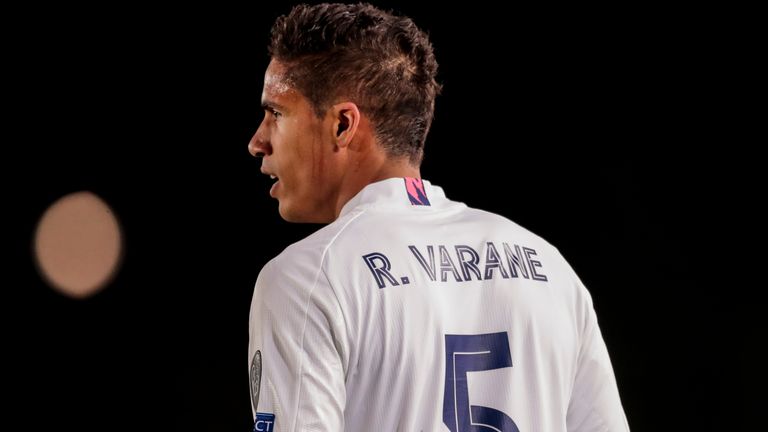 "But in terms of quality, I do not think there are many better than Varane."
Varane will line up alongside Harry Maguire at the heart of United's defence next season in a partnership that should complement both men perfectly, while also meaning a watching brief from the bench for Victor Lindelof, who fairly or unfairly, has struggled to win over supporters since his arrival at the club in 2017.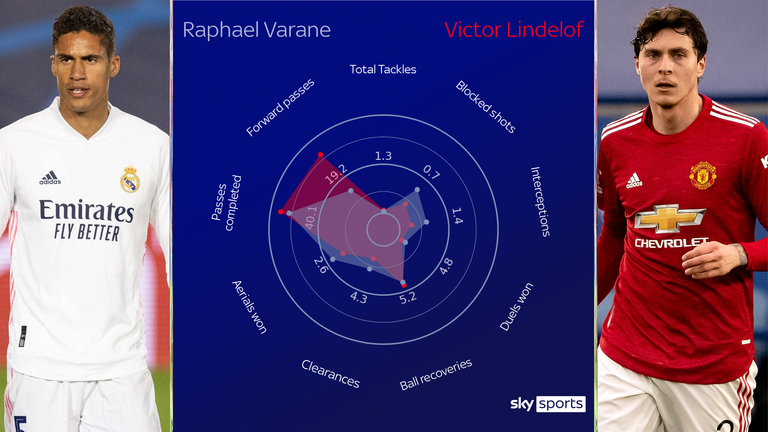 With Atletico Madrid right-back Kieran Trippier also reportedly on his way this summer, and his England team-mate Luke Shaw at left-back, United's defence could all of a sudden take on an imposing look.
Certainly, if Solskjaer is to make that jump from second to first in the Premier League, then an improved defensive showing is a must next season.
That is because last time out, United conceded 44 league goals – the most in the top four and even more than Liverpool, who struggled horribly at the back. United let in an eyebrow-raising 14 goals via set plays – goals which had an Expected Goals Against figure of just 8.9.
Solskjaer clearly recognised this susceptibility from free-kicks and corners, observing recently: "In big games against good players and good teams we lose that bit of focus. It's a big part of football – so many goals are conceded from set plays.
"We do have a good record of winning the first ball, but when we don't it seems like it goes in every time."
The arrival of the 6ft 3in Varane, though, will mean goals like Villarreal's headed winner from a set-piece in last season's Europa League final should now hopefully be a thing of the past at United.
That in turn could ultimately prove to be the difference between top spot and a runner-up berth next season for Solskjaer's team, which would have made the decade-long wait for the France defender worth it.
Follow the summer transfer window with Sky Sports
You can follow all the latest transfer news and rumours in our dedicated Transfer Centre blog on Sky Sports' digital platforms, as well as keeping track of all the developments on Sky Sports News.
New series: Football's Cult Heroes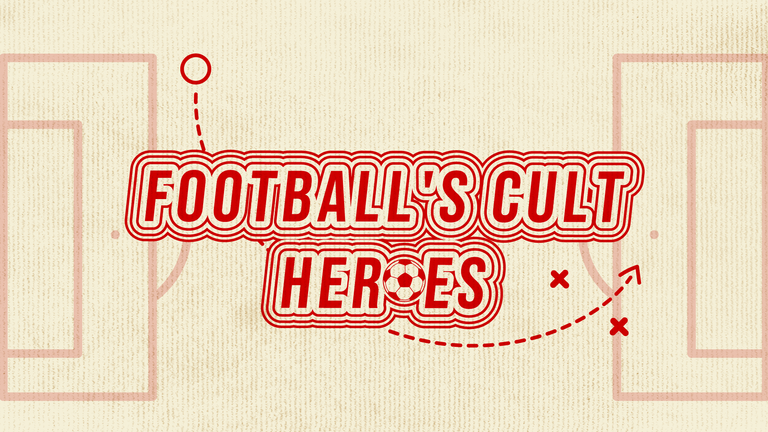 Football's Cult Heroes is a brand new podcast series exploring the stories of the players that carried their clubs on their backs – on and off the pitch.
Told by the players, fans and journalists that were there – we delve into why these players created such a strong bond with their fans and how they are still remembered years on.
Follow on Spotify so you can listen to the weekly episodes as soon as they drop.
After a Week Alone in Remote Kimberley, Social Media Helps Reunite Lost Dog With Frantic Owner – ABC News
Len Simpson was searching for his best mate more than 5 kilometres a day in the heat of the Kimberley outback.
Key points:
He searched through the thick bush and shrubbery, over snake pits and kangaroo dung, looking for any sign of his beloved dog, Jack.
After seven days, Mr Simpson was just about to give up and head home. 
The pair had started their journey together, travelling from Tasmania, and were camping near the Great Northern Highway, 195 km south of Broome. 
Jack was usually let out during the night for a toilet break, but he had always come back to the camp. 
ABC Kimberley: Andrew Seabourne
"When he didn't come back, I thought, 'He's just gone for a bit of a walk'," Mr Simpson said.
"When I got up in the morning and he wasn't back, I tried to track him in the scrub and, because it's spinifex and pindan country, it's quite easy to follow, so I followed him roughly 6 km in the bush."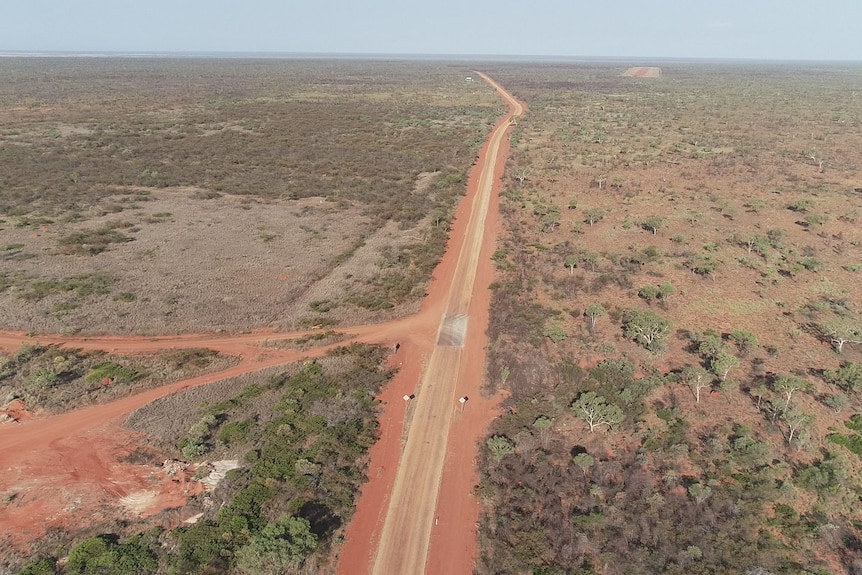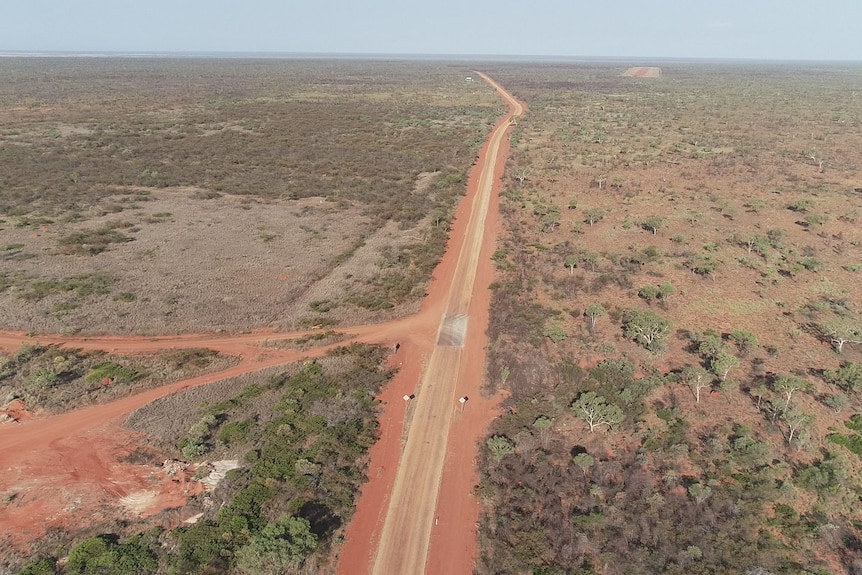 ABC Kimberley: Ben Collins 
After the first day, Mr Simpson did not see any more of Jack's tracks.
So he used his old school compass to walk more than 5 km every day in a new direction, meticulously searching the sand for Jack's tracks.
He messaged his daughter, Kate, in Victoria to let her know Jack was missing.
That was the start of a missing dog post that went viral and was shared in online noticeboards across the Kimberley and Pilbara regions.  
Travelling Good Samaritan 
Avid traveller Jolina Latusek was on the road from Port Hedland to Broome when she saw Kate's post about the missing dog on Facebook.
During the week, Ms Latusek helped with the search, printing out flyers at the local library and putting them up along the highway.
ABC Kimberley: Hinako Shiraishi 
She also supported Mr Simpson while he was out bush so that he could continue his ground search. 
"Out of her own pocket, she refused money constantly," Ms Simpson said.
"She took food and water out to Dad so he could stay at the camp and search for Jack longer."
Ms Latusek said she just wanted to help.
"I didn't know Len Simpson, or Jack, or anybody, but I could just imagine how he felt in that situation and I think if I need help one day, I would like other people to help as well," she said.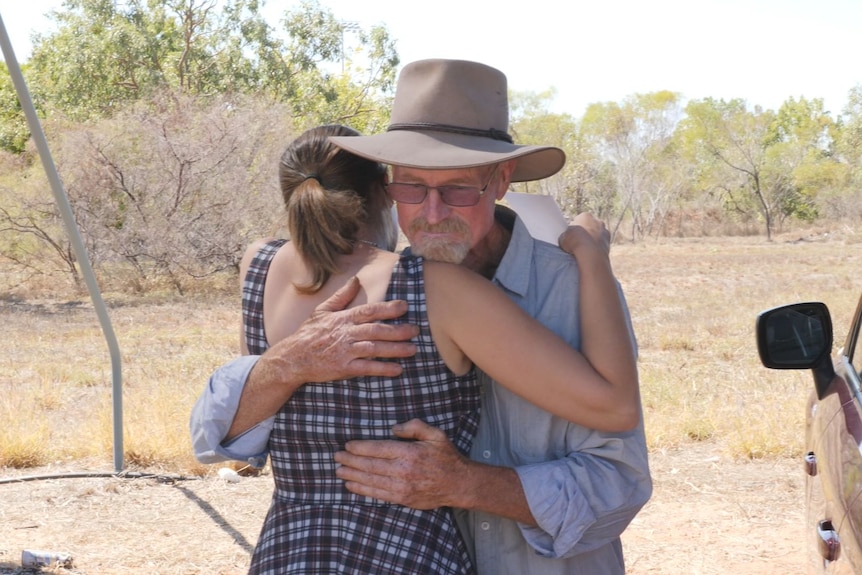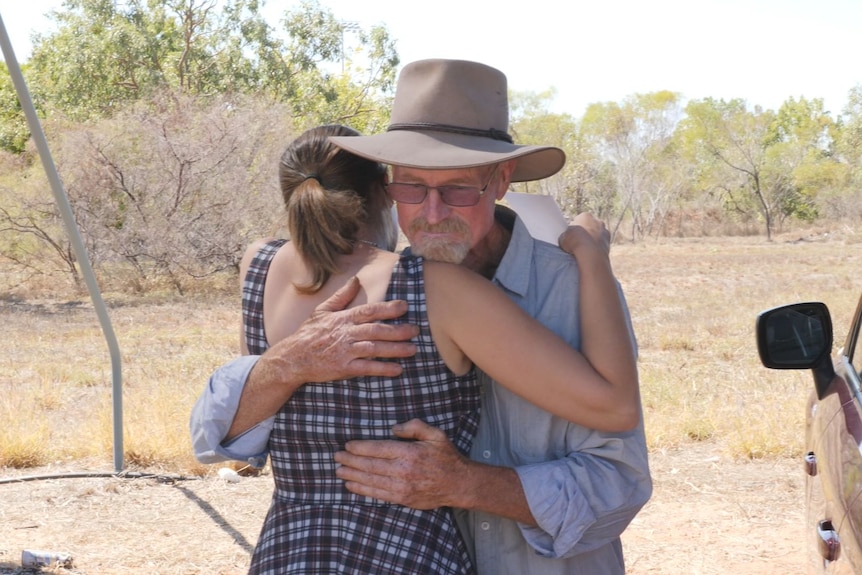 ABC Kimberley: Andrew Seabourne 
She was halfway through a three-hour drive from Broome to Sandfire Roadhouse, just to put up more missing dog flyers, when she received some good news from Ms Simpson. 
Jack had been found near the local Aboriginal community, Bidyadanga, after being seen beside a waste tip by a couple who recognised him, thanks to Ms Simpson's various social media posts.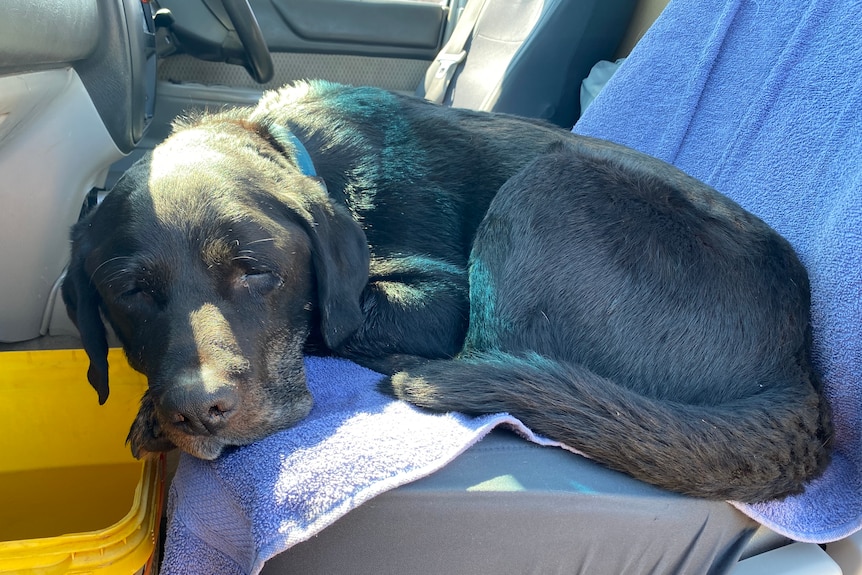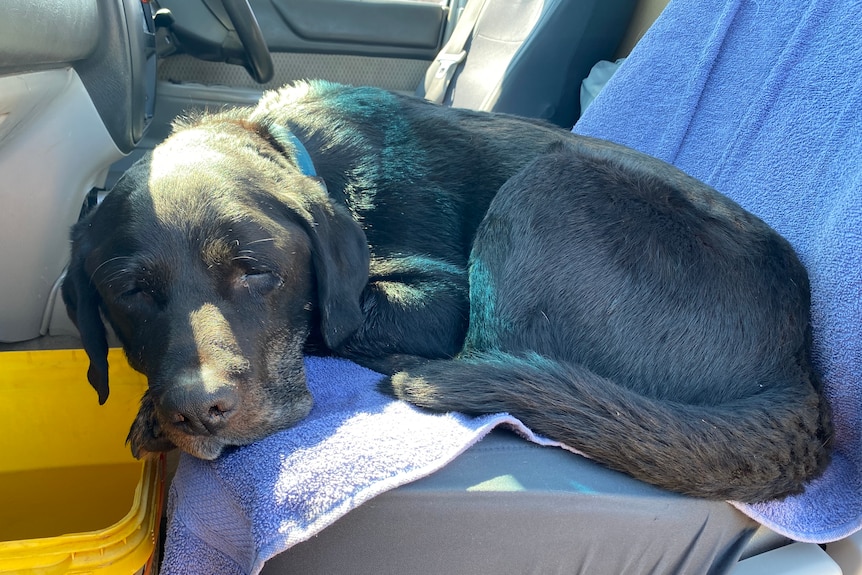 Supplied: Jolina Latusek
Ms Latusek said that, earlier that morning, Mr Simpson's daughter had sent her a message that Jack had been found when she could not reach her father.
"There's not good phone signal out there so she couldn't reach him," she said. 
So Ms Latusek headed for Bidyadanga.
"When I picked him up, he was very weak and thirsty, he didn't react much and was very dirty and had blood on his nose," she said.
After collecting Jack, Ms Latusek headed for the nearest vets in Broome, who were surprised the dog was alive after seven days in the bush without food or water.
The vets, including Dr Chiquita Minshull, were very worried that Jack could have heatstroke, have been bitten by a snake or ingested 1080 poison.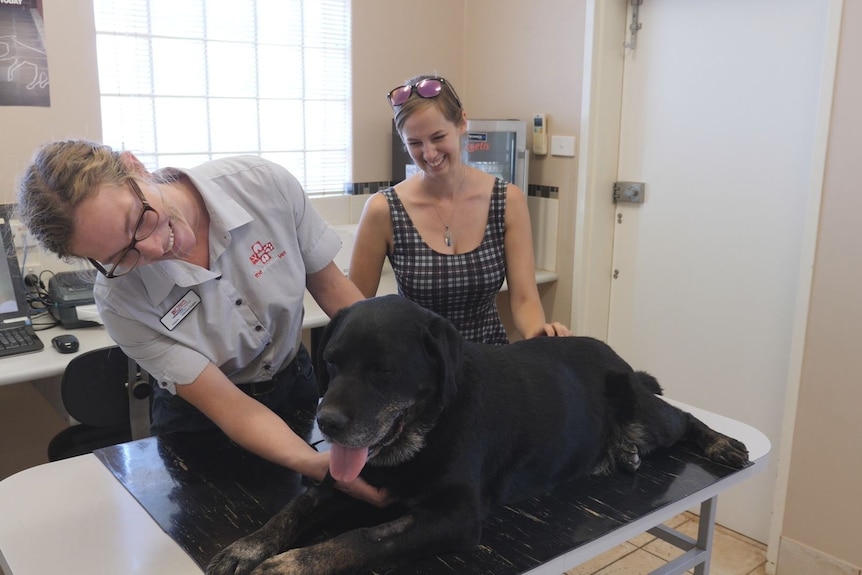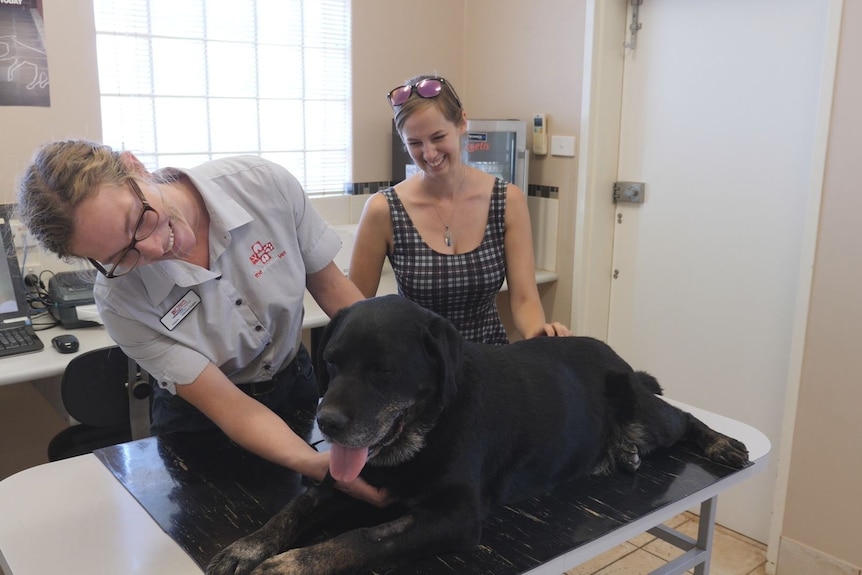 ABC Kimberley: Andrew Seabourne
"Luckily, on physical assessment of him, we found that he was okay," Dr Minshull said.
"Jack's a very lucky boy and he's very lucky to be found. In this case, I'm so happy for the family that they were reunited with him."
A week after his search began, after another five-hour search for Jack, Mr Simpson came back to a note put on his car from Ms Latusek, letting him know she'd had dropped Jack off at the Broome vet. 
As for the lucky owner, he was shocked. 
"I was amazed that he was still alive. I thought [that], with the lack of water out there, I didn't think there was much hope for him," Mr Simpson said.
For Jack and his owner, their journey around regional Western Australia is not yet over as they prepare to travel to the south of the state.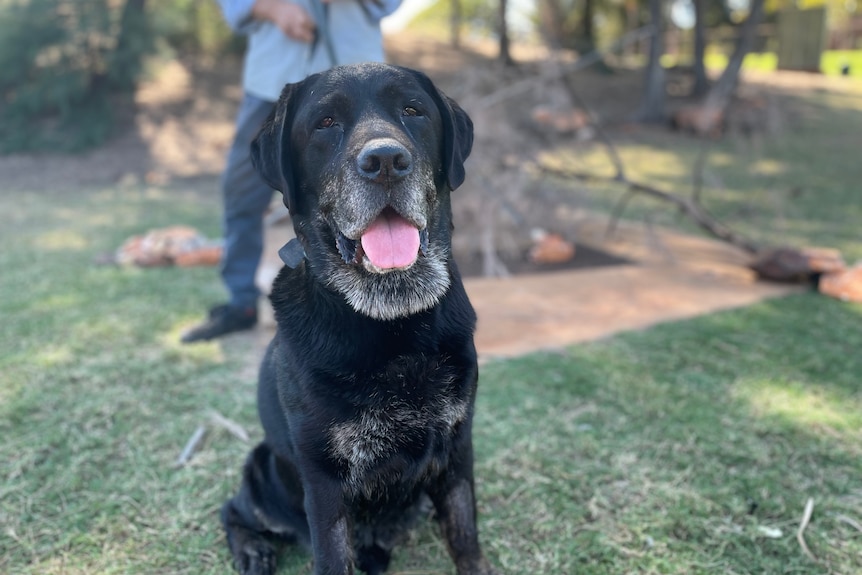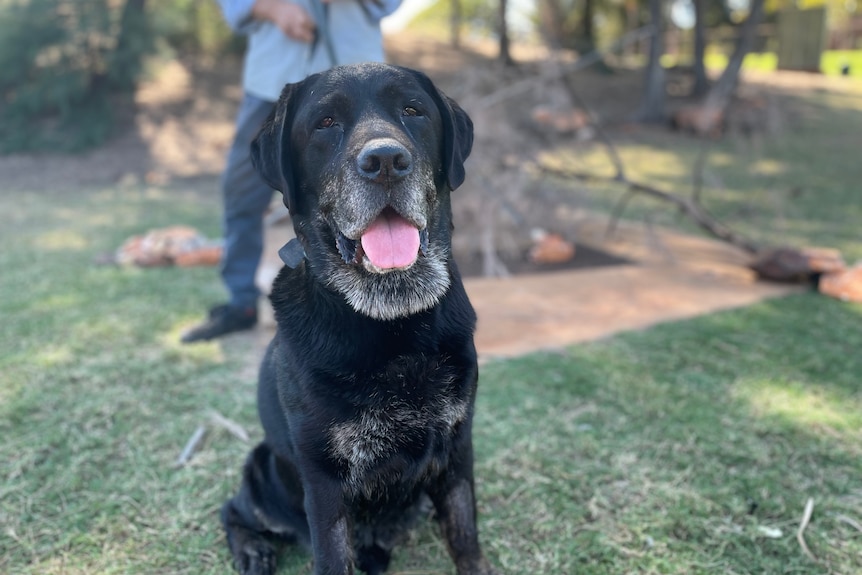 ABC Kimberley: Hinako Shiraishi